The SAVT offers various projects and programs to our members and stakeholders.  All current projects and programs will be listed below (make sure you scroll down to see everything).  Past projects and programs will be included further down.  For information on anything listed below contact the office at savt@savt.ca.
Current Projects & Programs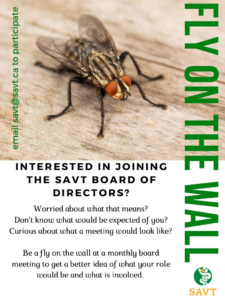 Past Projects & Programs
– Poking & Scraping (April 16, 2020)
– Town Hall Q&A (April 15, 2020)
– WCVM VIP Days
– Pet Expo
– Lakeland Advisory Committee Appointment
Certification and Designation Series
– Our Rural Engagement Committee recognizes that specialties are not as accessible for RVTs in rural locations so they've put together a series that shares other designations and certifications that are accessible to RVTs. These certifications and designations will contribute to advancement of an RVT's career and increase what a clinic can offer patients and clients. Learn about them along with us! Check out our social media.
Safety Snippets
– Our Workplace Guidelines Committee is excited to present another Safety Snippet. These snippets are shared regularly and are meant to provide a bit of safety education for veterinary professionals.
RVTTC Member Benefit Discount Code
– SAVT members have access to 20% off the cost of becoming Fear Free Certified. To receive the discount code you will need to email the SAVT office at savt@savt.ca
PHSMS
– the SAVT is working on creating a Psychological Health & Safety Management System. This system will provide staff, elected officials, and volunteers, with the tools and resources to take better care of their mental and emotional health. Once completed the SAVT will be one of the first associations to go through this process on behalf of elected officials and volunteers.
Reporting Structure
–the SAVT has created an outline of the Reporting Structure within the SAVT and the stakeholders that we engage with. The Good Death Revolution Series – A Modern Approach to Euthanasia — A Six-Part Series Exploring Best Practices
May 19 – When Quality of Life Scales Aren't Enough: How to Counsel Clients Who Won't Let Go
May 26 – Emotionally Intelligent Euthanasia: Turning Sadness into Satisfaction
June 2 – Euthanasia Reimagined: The 14 Essential Components of Modern Practice
June 9 – Pre-euthanasia Sedation and Anesthesia Protocols
June 16 -Tips and Tricks for Intra-organ Injections for Euthanasia
June 23 -Do you need a grief retreat? Managing Sadness and Loss in the Veterinary Workspace
Under Construction Series for Students: We would like to invite VT students to take part in the Under Construction Series hosted by Dr. Leann Benedetti. It is a 4-part course that can be taken during the summer season at your own pace!
Reach out to savt@savt.ca for free access to the course.